Entertain your event with your social feed.
It is a all in one, powerful and easy to operate solution to manage, play and mix, in real-time, your social channels with graphic contents.
It goes grab and collect your tweets and instagrams on-line , pass them through the data science lab, where useful information are extracted and stored into the local database.
Your social feed are available to be visualize with our dynamic and creative generator, with limitless possibilities when composite with our motion graphics bank.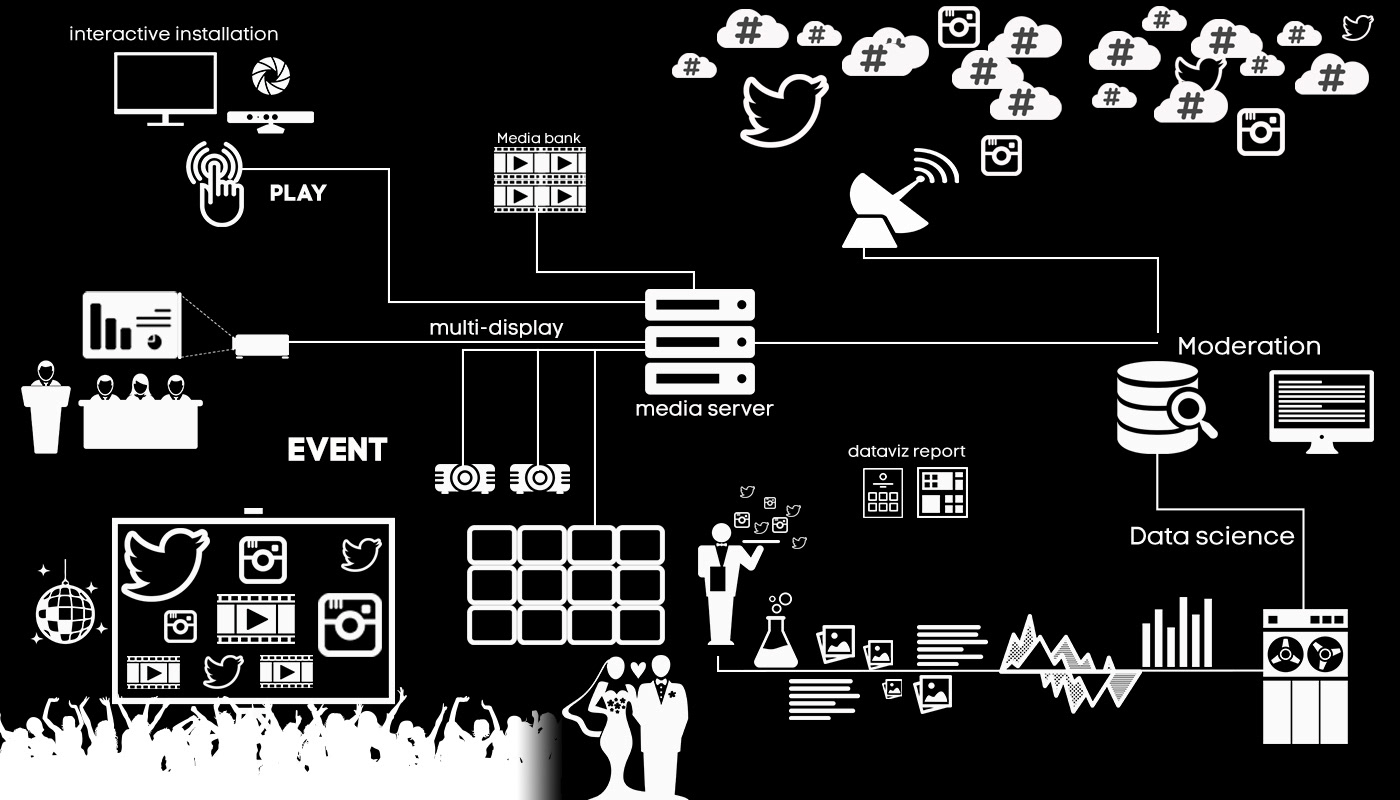 Gather and imply your community and guests with the collaborative creation and production of the digital substance of your event.
A new visual storytelling for your event, a ludic playground for your audience with instant feedback.
whether for informative or recreational purpose, a real opportunity to reveal the intrinsic nature of social media use in the right context.
The saturn system is modular and scalable. It offers appropriate solutions for the full spectrum of event, from wedding, exhibition, corporate to large scale event. 
The different module can be operate from a single station or spread across a network.


The social engine : 


Management and moderation of your feeds. The event's hastag is used to grab your tweets and instagrams. Both feed are displayed with a dedicated interface for the moderator to review and select items


The database and data science lab :


Under the hood, all data and photo are processed through different operations and analysis to extract meaningful informations. Stored into the local database and available for any module on the network.


The Graphic server :
You can mix and composite different layers of graphics.
_media player : Our station are loaded with exclusive content (footage, MoGraph) that can be play, manipulate and mix in real-time.
_Instagram and twitter graphic generator : A set of different generators for creative and inspiring visualization of your feed. In a blink, you can create complexe animation.
_Sound controlled generator : If music is involved, the sound is analyse to generate graphics on the beat and color of the live music. 


Control:


the system can be operate either locally with our dedicated interface and the multi-touch remote or with any lighting desk. 


Interactive installation :


for the best users experiences, we offer interactive applications and installations ranking from virtual reality, motion controlled user interface, Insta booth, digital playground.


Data collection:
As a memory of your event, we propose a collection of different visualizations and graphics of your social feeds collected during the event.